This Request for Quotation is open to all legally-constituted companies that can provide the requested services and have legal capacity to perform in Ukraine, or through an authorized representative.
I. About UNFPA
UNFPA, the United Nations Population Fund (UNFPA), is an international development agency that works to deliver a world where every pregnancy is wanted, every child birth is safe and every young person's potential is fulfilled.
UNFPA is the lead UN agency that expands the possibilities for women and young people to lead healthy sexual and reproductive lives. To read more about UNFPA, please go to: UNFPA about us
Terms of Reference (ToR)
Background and programme description
Violence against women and girls (VAW) is one of the most prevalent human rights violations in the world. It knows no social, economic or national boundaries. Gender-based violence (GBV) undermines health, dignity, security and autonomy of its victims, yet it remains shrouded in a culture of silence. Victims of violence can
suffer sexual and reproductive health consequences. GBV remains widespread in Ukraine and the armed conflict in the eastern part of Ukraine has resulted in increased risks of gender-based violence.
UNFPA programmes "Equality Springboard: Project on Social Norms Change and Gender Stereotypes Elimination for Better Resilience and Prosperity of Women and Men in Ukraine" and "EMBRACE" (Enhancing National and Regional Mechanisms to Build Responsive, Accountable & Cost-Effective System of GBV Response and Prevention) are aimed at empowerment of women at work and at home, improvement of the status of women through strengthening Government of Ukraine (central and local) capacities, improvement of mechanisms, advancement of policies and improvement of conditions for the implementation of the measures and legislation that foresee a society that values gender equality as an indispensable prerequisite to sustainable development, aiming towards zero tolerance of gender-based violence.
Women's economic empowerment is a factor of utmost significance in the process of breaking the cycle of violence and preventing the domestic violence in general. The aim of project's component Women Career Hub is to facilitate the development of professional and financial capacity of women who suffered from domestic violence/GBV or women from the risk group (high level of exposure to violence).
The following services are provided within the framework of the project:
● Support from career counsellors (consultations on professional skills acquiring and individual support in job search);
● Organization of professional courses for women seeking support due to difficult life circumstances, including ones suffered from domestic violence, with aim to expand the employment opportunities or promote the profit-generating initiatives – sustainable and demanded in COVID-19 environment, including IT-courses.
Prerequisites
UN Population Fund is inviting qualified suppliers specialized in delivery of IT-courses in online format. Selected supplier's activity will be managed by the UNFPA GBV Programme Associate together with teams of UNFPA Programme on Gender Equality Promotion, Women and Girls Capacity Building and GBV Response and Prevention Programme.
II. Меthodology
Work scope
THE AIM OF SERVICE PROVISION IS:
1) Theoretical and practical IT-course for beginners (200 women) designed in full compliance with the latest requirements and standards of IT-market with enhanced employment component.
2) Меntorship and expert guidance provided to attendees to plan their future career in IT-sector.
3) Internship/apprenticeship in selected IT-companies/departments to master the skills acquired during the course. Selected supplier shall offer the employment-oriented training programs fully complying with the latest ITmarket requirements. Suppliers are entitled to submit package proposals for various qualifications (technical, nontechnical, design) and for each separate block.
1) Programming with use of languages – 100 seats:
C/C++, Java, HTML/CSS, JavaScript, РНР
2) Теsting – 40 seats:
3) Web-design UI/UX – 40 seats.
4) Nontechnical courses – 20 seats:
Project management
Digital marketing
CANDIDATES' PROFILE AND SELECTION:
Target audience – women aged 18+, difficult life circumstances (including GBV survivors), no previous theoretical/practical background in IT-sector.
Selection procedure involves 2 stages.
Stage 1 – career counsellors of Women Career Hub project select 300-400 candidates (questionnaires and/or individual consultations).
Stage 2 – selected supplier will run the online-testing. Tests and interview questions must be submitted for Requestor's approval by the selected supplier. Examples of tests and interview questions must be attached to the tenderer's technical proposal.
The list includes but is not limited to:
1. Organization of second stage (candidates' selection).
2. Organization of training process:
The supplier shall provide:
- Detailed draft of the training package.
- Detailed methodology of course delivery with clearly determined performance indicators, methodology aiming at high probability of employment, methodology of soft skills mastering; information regarding the online-platform used to deliver the course; requirements to equipment used by attendees (desktop computers / laptops); tools and frequency of attendees' performance evaluation, clear criteria for handing the course attainment certificates. Methodology must contain relevant benchmarks – clearly determined course delivery results to identify if the attendees have reached the required level of IT-skills proficiency to enter the relevant labour market.
3. Organizing the internship / apprenticeship for attendees.
4. Меntorship and expert guidance for attendees to plan their future career in IT-sector.
5. Course delivery monitoring, internship / apprenticeship data, data on successful employment
within three months after completing the course.
Curriculum shall include the following:
- duration of course (hrs) delivered via online-platform under instructors' guidance (max course duration shall not exceed 6 months). Suppliers must clearly indicate what programming language (-s) they propose and prepare other documents based on their choice (verification of specialization, personnel, mechanisms facilitating the employment etc.).
- min 100 hours of practical activity (on-the-job training) in the format of internship /apprenticeship.
- min 20 hours (complementary to the course and min 100 hours of on-the-job training), mastering soft skill for career development, interviewing and other vital career skills.
Deadlines for service delivery and payment
Stage-by-stage payment is organized based on the task performance by the supplier:
1. 50% of the total amount – after all candidates are enrolled
2. 40% of the total amount – after successful course completion by all candidates (on the basis of received certificates). If over 15% of attendees do not receive certificates, payment will be transferred proportionally – only for certificate owners.
3. 10% of the total amount – after all monitoring data are provided including data on attendees employment.
Intellectual Property
All information pertaining to this project (documentary, audio, visual, digital, cyber, project documents, etc.) belonging to UNFPA, which the Contractor may come into contact with in the performance of the duties under this assignment shall remain the property of UNFPA with the exclusive rights over their use. Except for purposes of this assignment, the information shall not be disclosed to the public nor used in whatever without written permission of UNFPA in line with the national and International Copyright Laws applicable
Requirements and qualification
UNFPA is looking for service supplier with specialization and experience in IT-training sector.
Service supplier shall:
- be a resident of a legal entity, individual entrepreneur or have one's legal representation in Ukraine with official registration;
- have relevant specialization – at least three years of experience in IT-training sector (min 2 years – experience in online-training);
- verify the successful delivery of training in the selected sectors (brief description, links);
- ensure availability of professionals with relevant theoretical and practical background (min three years).
Proposal evaluation
The detailed evaluation of the quotations will consist of technical evaluation and financial evaluation.
Questions
Questions or requests for further clarifications can be requested during an organizational meeting - debriefing, which will take place on February 25, 2021 at 14:00 Kyiv time via Google Meet (the link for conference meeting will be provided later). In case of your participation in the debriefing, we ask you to send a confirmation with a full name of your representative to the contact person of the UNFPA up to 15:00 Kyiv time, February 23, 2021.
| | |
| --- | --- |
| Name of contact person at UNFPA: | Anna Tsytsak |
| Email address of contact person: | tsytsak@unfpa.org |
If you cannot participate in the debriefing, please send us your questions and requests regarding commercial offer to the contact person at UNFPA (see the contacts in the table above).
The question will be answered in writing, which will be distributed among all parties as soon as possible. The deadline for submission of questions is Monday, March 1, 2021, 17:00 Kyiv time
III. Content of quotations
Quotations should be submitted in a single e-mail whenever possible, depending on file size.
Quotations must contain:
a) Теchnical proposal comprising:
1. Меthodology for launching the second stage of candidate selection including examples of tests and interview questions.
2. Detailed draft of training program including detailed curriculum.
3. Detailed methodology of course delivery with clearly identified performance indicators, methodology aiming at high probability of employment, methodology of soft skills mastering; information regarding the online-platform used to deliver the course; requirements to equipment used by attendees (desktop computers / laptops); tools and frequency of attendees' performance evaluation, clear criteria for handing the course attainment certificates. Methodology must also contain relevant benchmarks – clearly determined course delivery results to identify if the attendees have reached the required level of IT-skills proficiency to enter the relevant labour market. Approach to task performance with indicated project management technologies, solutions and techniques, including the comprehensive system of website data protection.
4. Work schedule with task component performance order and general sequence.
5. Information regarding the professional experience in IT-training sector (min 3 years) with details on specialization and number of graduates.
6. Documents verifying the agreement with IT –companies on internship/apprenticeship organization for attendees.
7. List and description of involved staff qualification (CVs) with educational background and details of experience in relevant area.
8. Information regarding the legal entity and corporate portfolio.
9. Letters of recommendation including recommendations from IT-companies (employers). The Technical Bid must be submitted by electronic method of transmission at the email address indicated in the section IV.
b) Price quotation with proposed budgets should be submitted strictly in accordance with the price quotation form.
c) Language of the proposal – English or Ukrainian.
d) Separate Technical Proposal and Financial Proposal should be signed by the bidding company's relevant authority and to be submitted in pdf format.
IV. Instructions for submission
Proposals should be prepared based on the guidelines set forth in Section IV and III, along with a properly filled out and signed price quotation form, are to be sent by e-mail to the secured e-mail and contact person indicated below no later than: Tuesday, March 9, 2021 at 17:00 Kyiv time. Proposals sent to any other address will not be considered.
Please note the following guidelines for electronic submissions:
• The following reference must be included in the email subject line: RFQ Nº UNFPA/UKR/RFQ/21/01. Proposals that do not contain the correct email subject line may be overlooked by the procurement officer and therefore not considered.
• The total e-mail size may not exceed 20 MB (including e-mail body, encoded attachments and headers). Where the technical details are in large electronic files, it is recommended that these be sent separately before the deadline.
V. Overview of Evaluation Process
The evaluation will be carried out in a two-step process by an ad-hoc evaluation panel. Technical proposals will be evaluated and scored first, prior to the evaluation and scoring of price quotations.
I. Technical Evaluation (300 points max)
Technical proposals will be evaluated based on their responsiveness to the service requirements /TORs listed in Section I and in accordance with the evaluation criteria below.
Criteria
[A] Maximum
Points
[B]
Points attained
by Bidder
[C]
Weight (%)
[B] x [C] = [D]
Total Points
Bidder's qualification, capacity and
experience

100

 

25%

 

Proposed Methodology, Approach
and Implementation Plan

100

 

50%

 

Key Personnel

100

 

25%

 

 Total

300

 

100%

 
The following scoring scale will be used to ensure objective evaluation:
Degree to which the Terms of Reference requirements are met based
on evidence included in the Bid submitted
Points
out of 100
Significantly exceeds the requirements

90 – 100

Exceeds the requirements

80 – 89

Meets the requirements

70 – 79

Does not meet the requirements or no information provided to assess
compliance with the requirements

до 70
Only those technical proposals achieving the score of 65 points and above will be considered as qualifying for evaluation of the financial proposal.
II. Financial Evaluation (100 points max)
Financial proposals should follow the results-based budgeting approach. They will be assessed based on their clarity, completeness, level of detail and appropriateness. The maximum number of points shall be scored to the lowest price proposal among all technically qualifying applications. Other financial proposals will receive scores according to the following formula:
Financial score =
Lowest quote ($)
X 100 (Maximum score)
Quote being scored ($)
Total score
The total score of each application will represent the weighted sum of its technical and financial scores as
follows:
Total score =70% Technical score + 30% Financial score
VI. Award Criteria
UNFPA shall award a Purchase Order/Contract with duration until 31 December 2021 to the offer with the highest overall score.
VII. Right to Vary Requirements at Time of Award
UNFPA reserves the right at the time of award of contract to increase or decrease by up to 20% the volume of services specified in this RFQ without any change in unit prices or other terms and conditions.
VIII. Payment Terms
The payment will be done in accordance with the above deliverables acceptance of the Contractor's invoice and complete set of supporting documentation. The payment will be done in currency: Ukrainian Hryvnias. In case of two currencies involved, the United Nations Operational Rate of Exchange should be used on the day UNFPA instructs that payment(s) (web: www.treasury.un.org).
The payment terms are 30 days after receipt of the related documents, invoices and other documentation required according to the contract.
IX. Fraud and Corruption
UNFPA is committed to preventing, identifying, and addressing all acts of fraud against UNFPA, as well as against third parties involved in UNFPA activities. UNFPA's policy regarding fraud and corruption is available here: Fraud Policy. Submission of a proposal implies that the Bidder is aware of this policy. Suppliers, their subsidiaries, agents, intermediaries and principals must cooperate with the UNFPA Office of Audit and Investigations Services as well as with any other oversight entity authorized by the Executive Director and with the UNFPA Ethics Advisor as and when required. Such cooperation shall include, but not be limited to, the following: access to all employees, representatives agents and assignees of the vendor; as well as production of all documents requested, including financial records. Failure to fully cooperate with investigations will be considered sufficient grounds to allow UNFPA to repudiate and terminate the Agreement, and to debar and remove the supplier from UNFPA's list of registered suppliers.
A confidential Anti-Fraud Hotline is available to any Bidder to report suspicious fraudulent activities at UNFPA Investigation Hotline.
X. Zero Tolerance
UNFPA has adopted a zero-tolerance policy on gifts and hospitality. Suppliers are therefore requested not to send gifts or offer hospitality to UNFPA personnel. Further details on this policy are available here: Zero Tolerance Policy.
XI. RFQ Protest
Bidder(s) perceiving that they have been unjustly treated in connection with the solicitation or award of a contract may submit a complaint directly to the Chief, Procurement Services Branch at procurement@unfpa.org.
Bidder(s) perceiving that they have been unjustly or unfairly treated in connection with a solicitation, evaluation, or award of a contract may submit a complaint to the UNFPA Programme Manager Olesia Kompaniiets at e-mail: kompaniiets@unfpa.org. Should the supplier be unsatisfied with the reply provided by the UNFPA Head of the Business Unit, the supplier may contact the Chief, Procurement Services Branch at procurement@unfpa.org.
XII. Disclaimer
Should any of the links in this RFQ document be unavailable or inaccessible for any reason, bidders can contact the Procurement Officer in charge of the procurement to request for them to share a PDF version of such document(s). English version of request for quotations prevails.
PRICE QUOTATION FORM
Name of Bidder:
 
Date of the quotation:
 
Request for quotation Nº:
UNFPA/UKR/RFQ/21/01
Currency of quotation:
UAH
Validity of quotation:
(The quotation shall be valid for a
period of at least 3 months after the
submission deadline)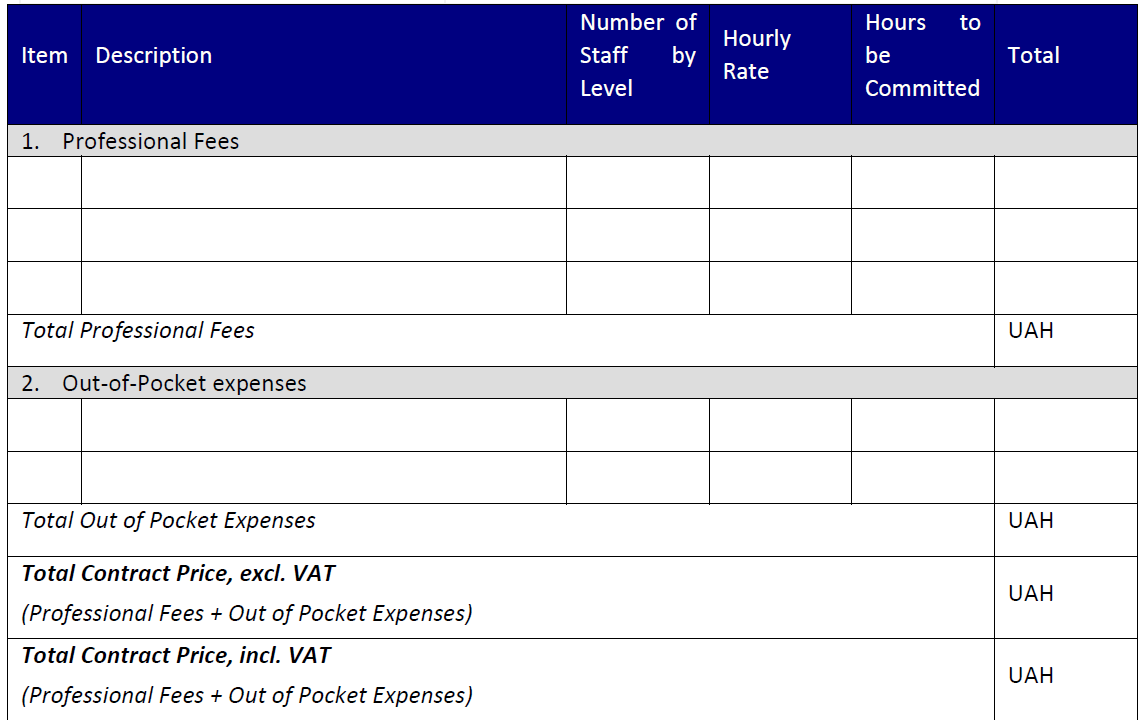 I hereby certify that the company mentioned above, which I am duly authorized to sign for, has reviewed RFQ UNFPA/UKR/RFQ/21/01 [Provision of online IT training programs] including all annexes, amendments to the RFQ document (if applicable) and the responses provided by UNFPA on clarification questions from the prospective service providers. Further, the company accepts the General Conditions of Contract for UNFPA and we will abide by this quotation until it expires.
Name and title                 Date and place
ANNEX I:
General Conditions of Contracts:
De Minimis Contracts
This Request for Quotation is subject to UNFPA's General Conditions of Contract: De Minimis Contracts, which are available in: English, Spanish and French