You are here
Main events calendar
Past Events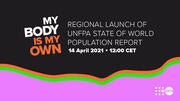 14 April 2021 - 14 April 2021
Facebook LIVE (@unfpa.eecaro)
Date: 14 April 2021 
Time: 12:00-13:30 CET (13:00-14:30 Istanbul time)
Location: Facebook LIVE (@unfpa.eecaro)
Join UNFPA Eastern Europe & Central Asia for a panel discussion on key findings of the UNFPA State of World Population Report 2021, "My Body is My Own," on claiming the right to bodily autonomy and self-determination. The panelists will share individual stories and experiences, with a focus on generating support for action to end violations of bodily autonomy and integrity.       
Speakers:
Details
9 December 2019 - 9 December 2019
Київ
9 грудня у Києві (конференс-хол "Депо", вул. Антоновича, 50) в рамках Міжнародного форуму для бізнесу "Сучасні корпоративні практики гендерної рівності та протидії домашньому насильству" відбудеться презентація національного дослідження "Гендерна рівність та відповідь на домашнє насильство в приватному секторі в Україні: заклик до дій".
Details
11 October 2019 - 11 October 2019
Київ
Pages