Medical mobile teams and mobile clinics
The medical mobile team is a service for providing accessible and effective sexual and reproductive health care, which is supported by the United Nations Population Fund (UNFPA) and aims to ensure the utmost inclusiveness and accessibility of medical services.
The reproductive health mobile team comprises an obstetrician-gynecologist, a family doctor or therapist, a nurse or a midwife, also there is a driver.
The mobile teams offer the following services:
medical examination by a gynecologist and a family doctor;

ultrasound examination;

electrocardiogram;

counseling on women's health, including pre and postnatal care, maternal health, breastfeeding and child care;

counseling on HIV and sexually transmitted diseases;

medical and sociopsychological support to survivors of domestic and other types of violence, including those related to war.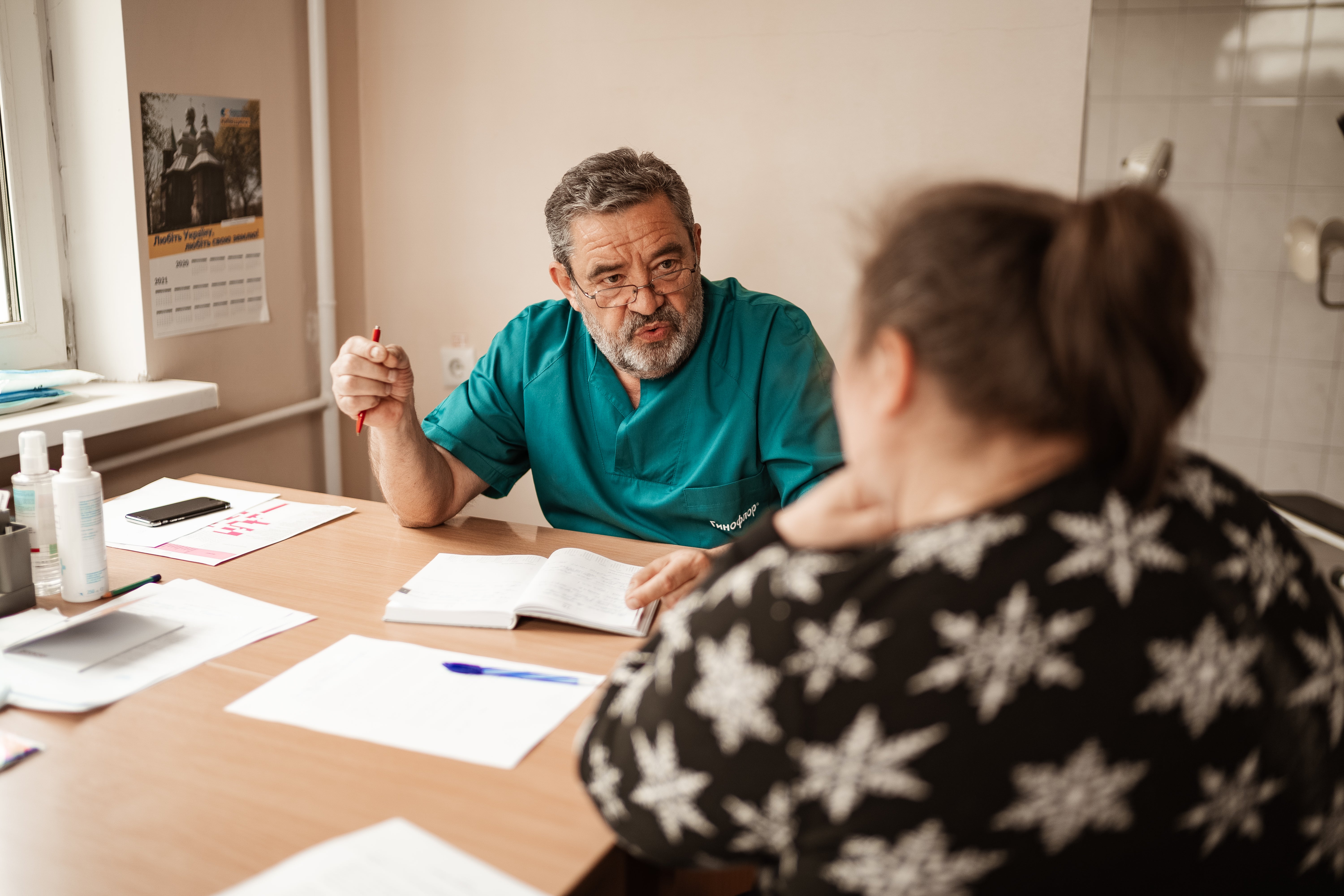 Reproductive health mobile teams work in three regions: Kyiv, Lviv, and Vinnytsia.
In the near future, two mobile clinics are expected to be launched in the Cherkasy and Poltava regions, with the support of the European Union.
Medical mobile teams also work within the humanitarian response measures of UNFPA, the United Nations Population Fund, with the financial support of CERF.
Health care service delivery points
The health care service delivery point is a special point at a multi-profile hospital for working with violence survivors. Here, women can anonymously and confidentially receive medical and psychological services in case of domestic or gender-based violence.
The points are equipped with modern medical equipment, diagnostic kits (or rapid test kits), medicines — everything necessary for the protection of reproductive health, HIV prevention, treatment of sexually transmitted infections, prevention of unintended pregnancy and emergency care for rape survivors.
Currently, there are 5 such health care service delivery points in Ukraine.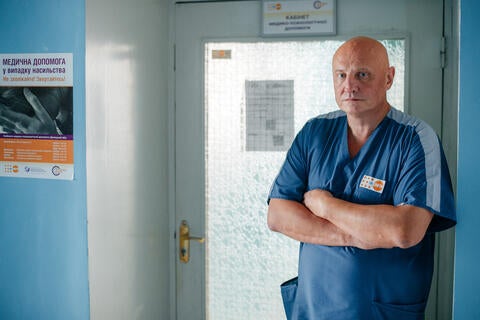 Contacts
| | | | |
| --- | --- | --- | --- |
| Vinnytsia | Vinnytsia Regional Pyrogov Clinical Hospital | 46, Pyrogov St. | (0432) 53-15-25 |
| Kryvyi Rih | MI 'Kryvyi Rih City Clinical Maternity Hospital No. 1' of the Kryvyi Rih City Council | 11, Vyzvolennia Sq. | (0564) 92-36-82, (0564) 92-49-24 |
| Mykolayiv | City Emergency Hospital | 14V, Korabeliv St. | (0512) 36-82-90 |
| Odesa | Odesa Regional Clinical Hospital   | 26, Ac. Zabolotny St. | (048) 750-01-69 (from 9.00 till 15.00); (048) 750-01-18 |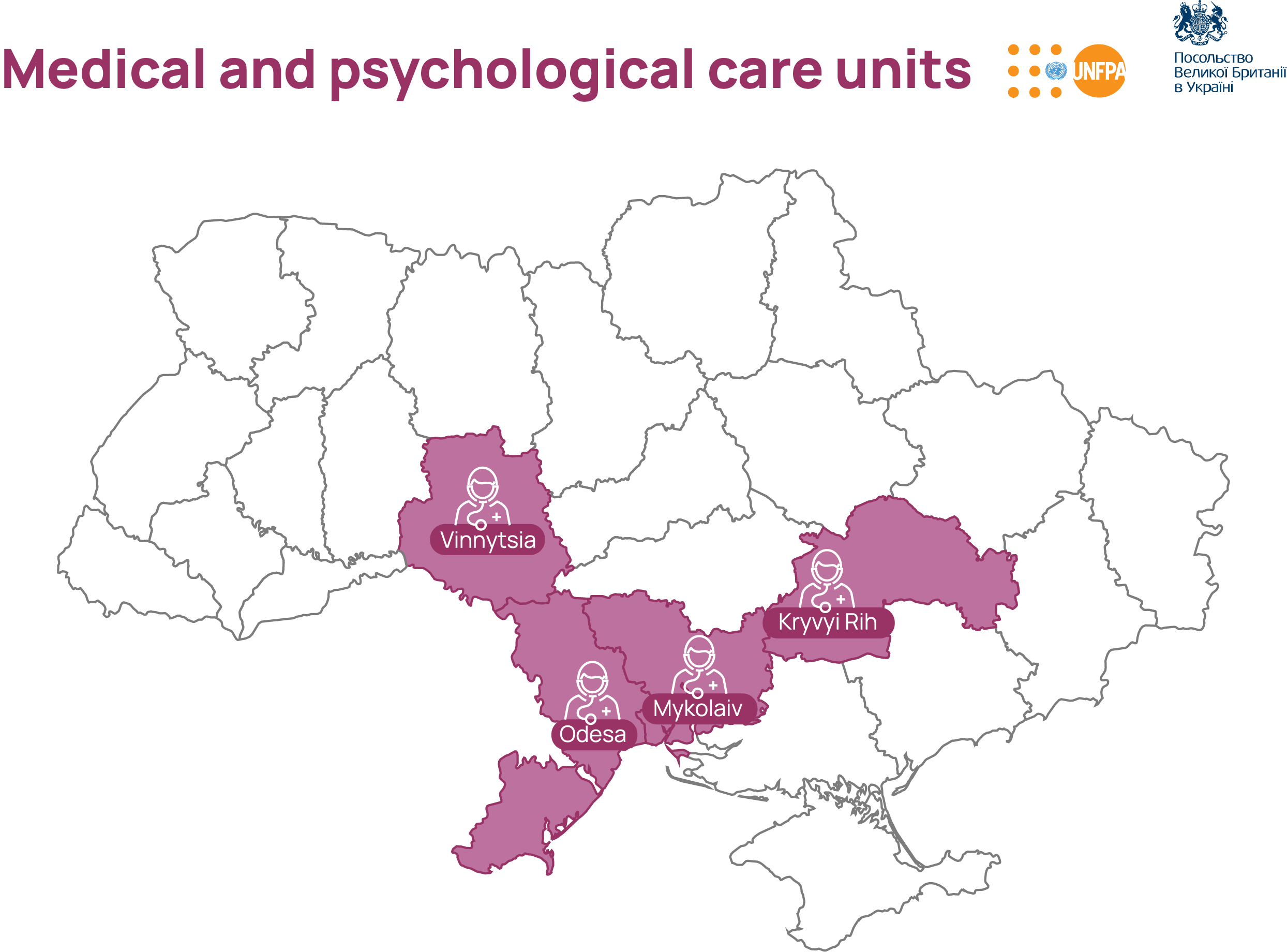 The health care service delivery points were established by UNFPA with the support of the Government of Great Britain.
Responding to war-related sexual violence in Ukraine
CONFLICT-RELATED SEXUAL VIOLENCE  (IN THE WAR CONTEXT) — any sexual act, attempt to obtain a sexual act or other acts that are directed against a person's sexuality using coercion, which have a temporal, geographical and causal connection with armed conflict/hostilities:
• rape;
• sexual slavery;
• forcing to engage in prostitution;
• abduction and human trafficking;
• forced pregnancy or abortion;
• forced sterilization;
• harassment;
• other forms of sexual violence of similar severity (for example, threats of rape or sexual violence, female or male genital mutilation, sexual torture, forced nudity, infection with sexually transmitted diseases, etc.).
Only the perpetrator is guilty of committing an act of violence. It is entirely the perpetrator's responsibility and fault. If this has happened to you, use the contacts below for help.
If this happened to someone you know, remember that psychologically, a person that has/may have experienced sexual violence has strong feelings: shock, accompanied by feelings of guilt and shame, anger, uncertainty, helplessness, grief, etc.
In this case, it is important to suggest contacts of specialists (psychologists or psychotherapists) who will support and provide professional help.
FREE HELP PROVIDED BY PSYCHOLOGISTS
• National hotline for prevention of domestic violence, human trafficking and gender discrimination — 116 123 or 0 800 500 335;
• 24/7 free hotlines — 1500 landline or 044 272 15 00 mobile;
• Psychotherapeutic help — online platform Aurora.
Seek medical care if necessary. Even if the situation happened a long time ago, you need to prevent serious consequences for your health. However, when appropriate, apply as soon as possible.
Aurora is an online platform for providing specialized psychotherapeutic support to persons that experienced violence, including war-related sexual violence. On the platform, survivors can receive comprehensive support from psychotherapists in order to cope with traumatic experiences, restore emotional balance and internal resources to rebuild their lives. In addition, they can seek advice from medical specialists in order to address urgent health issues, including preservation of reproductive health, as well as get professional legal aid.
Details about the service are available at: https://rozirvykolo.org/mental-support/
The Aurora online platform was launched by UNFPA with the assistance of the Office of the Deputy Prime Minister for European and Euro-Atlantic Integration of Ukraine and support of the Government of Great Britain.
Reproductive women's health
In 2021, two UNFPA mobile clinics provided life-saving medical assistance and referral to specialized services for 8,413 people from 56 remote settlements and areas along the contact line, where there is no specialized healthcare assistance. Mobile clinics' specialists identified 206 cases of GBV and referred patients to specialized service providers.
Men's Health Week
Before Men's Health Week (June 14 - 20), UNFPA's Regional Office EECARO called to raise awareness on the rights and roles of men in SRH, in order to debunk harmful myths and stereotypes that hinder men's access to SRH services.
More than 38,000 men learned about myths on men's sexual and reproductive health, that were reviewed by medical experts. Publications were dedicated to mental health, healthy lifestyle, family planning, regular checkups, HIV.