You are here
Partnerships
UNFPA Ukraine implements programs aimed at creating conditions in which every young person can fully realize their potential, combating gender stereotypes and creating services for victims of gender-based violence. You can find more information about the areas of our work in the tab "About us" and "Topics".
To effectively implement programs and to attract local organizations, companies and leaders, we involve partners who share our values and beliefs: equality, human rights and sustainable development!
We consider various formats of cooperation with partners, in particular:
Joint projects, when we implement parts of a project in the win-win format.
Information partnership, where we act as experts providing information for an existing platform. We are also interested in partnerships with female and male specialists who are ready to provide their expert advice (for example, psychologists, doctors, etc.).
Collaborations with brands and opinion leaders, and fundraising, when, together with a brand, we develop a socially significant idea and jointly implement it. 
Financial partnership. We are always interested in expanding our existing programs and initiatives. Therefore, if you are interested in the development of social projects on gender equality, responsible fatherhood, combating domestic and gender-based violence, development of youth potential, employment, sex education, sexual and reproductive health, as well as development of skills or sports projects, and you are ready to invest resources of your company or organization in it - we will be glad to cooperate!
Cooperation within our programs. Each of our programs has a wide range of possible cooperation, in particular, provides for the involvement of local small, medium and large businesses (for example, in the development of the Youth Wellbeing Index in cities), or experts (for example, female psychologists to work with adolescents in the framework of the project "Not Trivia in Relations"). You can find more information about our programs and initiatives in the tab "Topics" and "About us". 
Our projects that we implement in cooperation with partners:
Come on, Let's Play! in cooperation with FC Shakhtar and the Shakhtar Social foundation
We started to cooperate with FC Shakhtar in 2017, when the football dads Andrii Pyatov, Taras Stepanenko, Serhii Kryvtsov and Anton Kanibolotsky became the poster boys of the 4 Hands Happiness project.
Since 2018, we have been expanding our partnership, working not only on promoting the ideas of responsible fathering, but also combating gender stereotypes, in particular in sports. Shakhtar became the first professional club in Ukraine to create a football team for girls. This team is training in Kharkiv. 
Since 2019, together with the Shakhtar Social foundation, we began to involve more girls in football, creating mixed teams for the Shakhtar Social foundation's Come on, Let's Play! project. In 2019, we were also joined by the partner Special Olympics Ukraine. Together we have launched 4 inclusive teams for girls with intellectual disabilities: in Kyiv, Odesa, Mariupol and Kharkiv.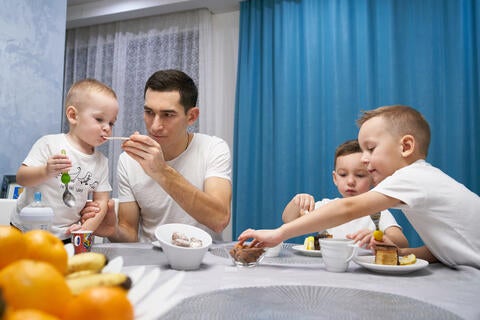 Beauty for Everyone educational project implemented in cooperation with L'Oréal Ukraine 
The purpose of the project is to provide a special course to teach women being in difficult living conditions the basics of hairdressing skills and to help them build their way to a better life. The project focuses on women affected by domestic violence. Since 2018, together with L'Oreal Ukraine, we have sought to provide women with an opportunity to receive a relevant and much-needed profession, and become economically independent.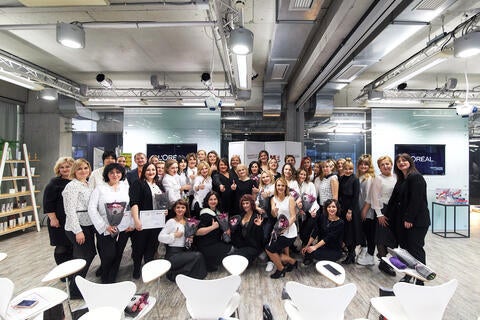 AVON charitable assistance for women affected by domestic violence 
AVON has supported a domestic violence program implemented by UNFPA Ukraine with the support of the Governments of the United Kingdom, Canada and Estonia.
When a woman comes to a shelter, the last thing she usually thinks about is clothes or accessories. The main thing is to hide from the aggressor and have a roof over her head. Therefore, many women flee to shelters without any belongings whatsoever. When at the shelter, women have an opportunity to solve a difficult situation with the help of specialists without worrying about household problems.
We received AVON's charitable assistance: 77,000 items of products. They are clothes, shoes and accessories worth more than $416,000. These things were handed over to women in shelters, day-care centers and via psychosocial support mobile teams.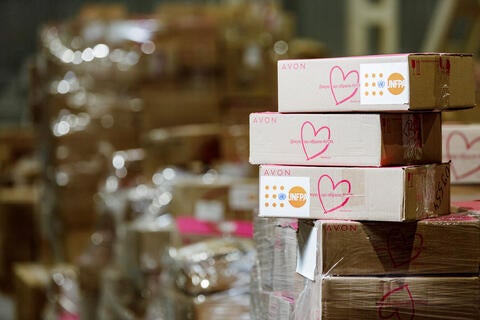 Myths about women's health together with doctor Nataliia Silina's School of Women's Health
Woman's health, sexual and reproductive rights, as well as sexual education are still the most discussable topics in Ukraine. We dispel myths together with Nataliia Silina, a gynecologist-endocrinologist and expert on woman's health. Every week, Nataliia Silina writes about the most common questions that she hears at her office or receives via Instagram. Together, we started a column about social networks called "Myths about Woman's Health".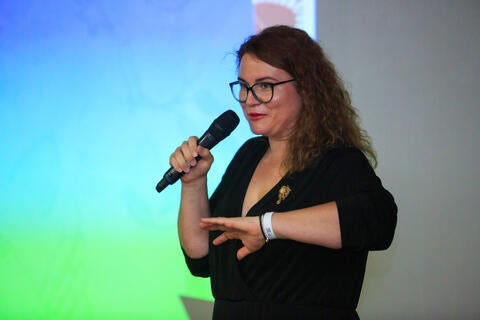 WikiGap and Women in STEM with Wikipedia
In 2019, we started a partnership with Wikipedia. Together with the Embassy of Sweden in Ukraine, we joined the international flash mob WikiGap, and a little later we organized an all-Ukrainian contest of articles "Women in STEM".
The goal of the global editors' marathon WikiGap is to create biographical articles of well-known Ukrainian women and disseminate information about them. 3 meetings also took place within the framework of the marathon: in Kyiv, Kharkiv and Lviv. During the 2019 marathon, female and male correspondents created 186 new articles on women's achievements and made them more visible. During the contest "Women in STEM", more than 500 articles were created that show the achievements of women and girls in STEM professions.
We are always open to new partnerships. To contact us, please use the e-mail address indicated in the "Contacts" section.