The work of mobile clinics in the East of Ukraine 
2 mobile clinics provided vital medical care and referred 7,964 residents of 58 remote settlements and areas along the contact line in the East of Ukraine to specialized services.
As part of the UNFPA program, with the support of the Government of the United Kingdom and the implementing partner Women's Health and Family Planning Charity Foundation, mobile clinics were launched in the Luhansk and Donetsk Oblasts in July 2020. They provided access to highly specialized medical and socio-psychological services to people living in settlements along the contact line and/or in remote isolated towns in the East of Ukraine, namely in the Bakhmut, Yasynuvata Rayons and in Avdiivka City, Donetsk Oblast, as well as in Stanytsia-Luhanska, Novoaydar and Popasna Rayons of the Luhansk Oblast. Mobile clinics conducted medical examinations, provided critical medical services, and identified hidden cases of domestic and gender-based violence.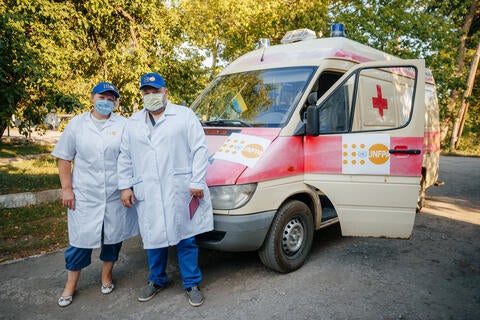 The work of medical and psychological care units 
Medical and psychological care units are usually located at multidisciplinary hospitals, equipped with modern medical devices, diagnostic kits, medicines, etc., i.e. everything necessary for the protection of reproductive health, HIV prevention, treatment of sexually transmitted infections, prevention of unwanted pregnancies and provision of emergency care to victims of rape. Currently, there are 17 such units in Ukraine. Six of them are in the Donetsk Oblast, 5 – in the Luhansk Oblast, and others are located in Vinnytsia, Mykolayiv, Kharkiv, Kryvyi Rih, Odesa and Kherson. Each unit provides 24-hour free assistance to women anonymously. In addition, most units have a separate entrance. 
17 medical care units provided medical counseling and assistance to 11,056 women in 8 Oblasts.
Medical and psychological care units established by UNFPA Ukraine together with the implementing partner Women's Health and Family Planning Charity Foundation with the support of the Government of the United Kingdom.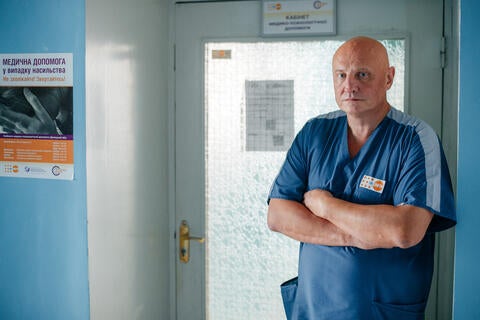 HIV epidemic response
We protect the rights of key populations (injecting drug users, sex workers, men who have sex with men) who are most vulnerable to HIV, by increasing levels of tolerance and reducing stigma and discrimination by healthcare workers. This is a guarantee of equal opportunities for representatives of key populations to access HIV diagnostics and treatment services. Moreover, we support key community leaders in advocacy for HIV prevention and provide preventive activities, including those in the eastern districts of the country adjacent to the contact line.
Reproductive health of women
We are expanding access to free and quality reproductive health services for girls and women in remote rural areas of Luhansk and Donetsk oblasts, providing hospitals and maternity clinics with essential equipment: sterile gynecological kits, specialized obstetric kits for childbirth, as well as creating the emergency rooms. An important component supporting the delivery of reproductive services is the organization of high-quality reproductive health and STIs counseling based on such emergency rooms and mobile teams. The equipment procured for hospitals and maternity clinics (fetal cardiac monitors, incubators) helps preserve the lives of newborns and premature babies.
Dr. Silina's School of Female Health
We are working to raise the awareness of girls and women about reproductive and sexual health and rights. The collaboration with Dr. Natalia Silina's School of Female Health is a great opportunity for girls and women and their partners to learn about the specifics of the choice of contraception, responsible pregnancy, minimizing the risks during childbirth and the birth of a healthy baby. A physician shares information on pregnancy planning, childbirth, and sexual education in an accessible and simple question-answer format in videos and articles.
At the beginning of the pandemic in Ukraine in 2020, 3 educational videos were created, in which gynecologist-endocrinologist Natalia Silina spoke about:
Common COVID-19 issues 
Pregnancy during COVID-19 
Care of newborns during COVID-19 
A total of 197 thousand people watched the videos. 
#happinessunlimited campaign
#щастябезмеж campaign is aimed at people with disabilities and opportunities for them to implement their reproductive rights. We draw the attention of the public to the importance of ensuring reproductive rights and emphasize equal opportunities for people with disabilities. Cultural and sports celebrities share their family planning and maternity experience, inspire other people with disabilities to be confident in their abilities.