On 14 February 2013, UNFPA supported organization of a dancing flash-mob at Maydan Nezalezhnosti square in Kyiv in the framework of global campaign to end violence against women One Billion Rising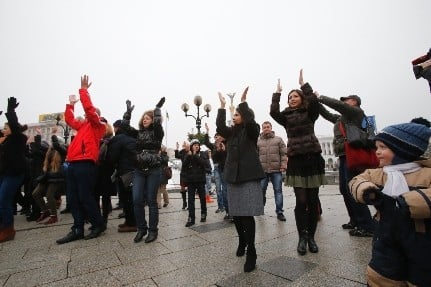 14 February is not only the Saint Valentine's Day, but also a day when activists all around the world promote creative events to increase awareness and revitalize the spirit of existing anti-violence organizations. V-Day is a global activist movement to end violence against women and girls.
In conjunction with the 15th anniversary, V-Day launched its most ambitious campaign to date – One Billion Rising. The concept of the campaign is simple. If you take into account the statistic that 1 out of 3 women will experience violence in her lifetime, you are left with the staggering statistic that over 1 billion women on this planet will be impacted by violence. On V-Day's 15th Anniversary, UNFPA supported organization of a dancing flash-mob at Maydan Nezalezhnosti square in Kyiv. It was the first time people in Ukraine, like in other 197 countries of the world, danced to say, "It is enough. The violence should end right now".
The campaign was co-organized by CSO "HealthRight International" and supported by All-Ukrainian network of people living with HIV, CSO "Center of Democracy Development". International Women's Right Center "La Strada-Ukraine", Kyiv City Department of All-Ukrainian Network of PLWH, activists and volunteers.
The event was followed by press-briefing. Addressing the participants, Ms. Nuzhat Ehsan, UNFPA Representative in Ukraine, informed that according to UNDP-EU opinion poll on domestic violence, conducted in 2010, 44% of Ukrainian population suffered from domestic violence in their lives, mostly women, and that about 75% of victims of different types of violence never asked for help, others mostly turned to their relatives. Ms. Ehsan also stressed that it was befitting that on 14 February, a day that is celebrated as a day of love, we commit ourselves, men and women, in a more profound way, to the principles of human rights and love to all human beings.