United Nations Population Fund in Ukraine delivered a truck of humanitarian aid to Kharkiv regional perinatal center - UNFPA RH Kits for provision of obstetrics-gynecology care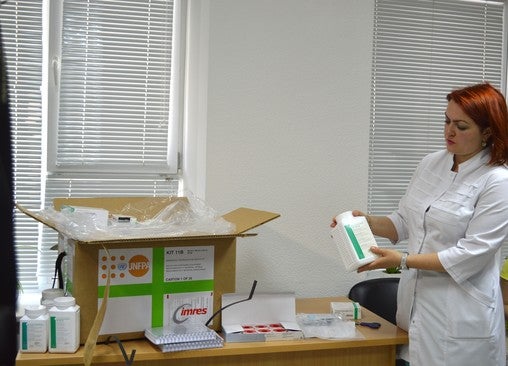 Kharkiv, 9 July 2015 - United Nations Population Fund in Ukraine (UNFPA) on request of the Ministry of Health of Ukraine, delivered a truck of humanitarian aid to Kharkiv regional perinatal center - UNFPA RH Kits for provision of obstetrics-gynecology care for women among the internally displaced persons and other vulnerable groups of women.
"UNFPA is working to ensure safe delivery worldwide, which is especially pressing during humanitarian crises when the special needs of women are ignored due to difficult conditions. Unfortunately, the conflict in the eastern regions has elevated the urgency of these needs in Ukraine. UNFPA, therefore, is doing everything possible to make sure that medical needs of women are taken into account, including provision of RH Kits for provision of obstetrics-gynecology care. The kits include medical supplies needed for complicated childbirth and surgery "- said Mr. Pavlo Zamostyan, UNFPA Assistant Representative in Ukraine.
The women from Lugansk and Donetsk regions that have risk of comorbidity and preterm delivery have to seek help in nearby regions as they cannot get life-saving medical care in their home regions. Since perinatal centres of 3rd level in regional centres were significantly damaged by the conflict, women with complications are redirected to Kharkiv and Dnipropetrovsk regions, which due to current needs are among the biggest recipients of UNFPA humanitarian assistance.
According to the latest figures, there are almost 180 thousand IDPs in Kharkiv region. In total, the region has received 39 obstetrical kits, most of which are already distributed among area hospitals. The total cost of these kits intended for surgical intervention and resuscitation of mothers and new-borns is around UAH 900 thousand. Medical kits will meet the needs of obstetrics-gynecology assistance for at least a period of three-months.
The universal UNFPA medical kits include surgical instruments, suture materials, consumables and most necessary medicines: analgesics, anti-inflammatory, antibacterial, hemostatic drugs and infusion solutions.
"We have repeatedly asked for help from international organizations. 70 thousand of IDPs received medical assistance in the region which costed the healthcare system UAH 60 mln., and this amount was not compensated from the local budget. In particular, 900 women among the IDPs gave births in our regions, of which over 100 had birth complications. Therefore, obstetric-gynecological assistance from the United Nations Population Fund is extremely valuable and necessary for women from areas affected by the conflict, since it gives them a feeling of support and they can receive appropriate free assistance in the medical institutions where they seek help"- noted Mr. Oleksandr Halatsan, Head of the Health Department of Kharkiv Regional State Administration.
According to the latest data the number of internally displaced persons in Ukraine has reached 1.3 million, a large proportion of whom are women and girls. Worldwide, women, children and young people make up more than three-quarters of 60 million people displaced internally from their homes as a result of conflict and natural disasters. Girls and women in crisis situations face a much greater risk of violence, sexual exploitation, diseases related to reproductive health and death due to lack of adequate protection and assistance. To draw attention to their humanitarian needs the topic of this year's World Population Day, which the international community marks each year on July 11, is "Vulnerable Populations in Emergencies".
UNFPA is actively contributing to the UN response to the humanitarian situation. By summer 2015 UNFPA has allocated significant amounts of financial aid for the needs of internally displaced persons. Over 24,500 individual dignity kits, 183 reproductive health kits, 16,000 gynecological kits and 8,600 packages with warm cloth were distributed in the regions with the highest numbers of IDPs.
According to the MOH distribution plan, medical kits have been delivered to health institutions of Lugansk, Donetsk, Dnipropetrovsk, Zaporizhzya, Kharkiv, Poltava, Kyiv and Odessa oblasts – regions with the largest number of internally displaced people, most of whom are women.