15-16 June, UNFPA supported a 2-day Training in Zaporizhzhia for heads of departments of district police officers on basic principles of addressing cases of Gender-Based Violence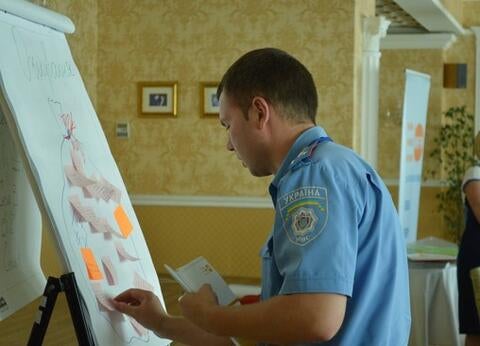 Gender-Based Violence (GBV) was recognized by all communities as a major concern during the crisis and remains a significant risk in crisis affected areas. Members of GBV Sub-Cluster, established to deal with GBV in humanitarian settings, identified capacity building trainings on GBV for police officers among top priority activities.
Training was held on the basis of comprehensive training module for law enforcement officials on prevention of violence against women, developed by ICF «Ukrainian Foundation for Public Health», approved and recommended by the Ministry of Internal Affairs of Ukraine.
Training involved 30 heads of structural departments of police officers of Zaporzhzhia oblast. During two days the participants gained theoretical and practical knowledge on prevention and work with cases of GBV. The program of the training included sessions on the concept and types of violence against women, psychological factors that affect the occurrence of violence, socio-psychological characteristics of survivors and perpetrators, international principles and national legislation for the prevention of domestic violence.
In addition to theoretical sessions, the heads of structural departments of police officers also had a chance to go through practical session on improving interaction skills with GBV survivors and perpetrators. They also worked on developing an algorithm of police actions to prevent domestic violence, reviewed specific cases of GBV and learned about referring survivors of violence that need psychological and medical assistance
Similar trainings with involvement of heads of structural departments of police officers were conducted in Kharkiv and Dnipropetrovsk, and are planned to be organized in Donetsk and Luhansk regions.