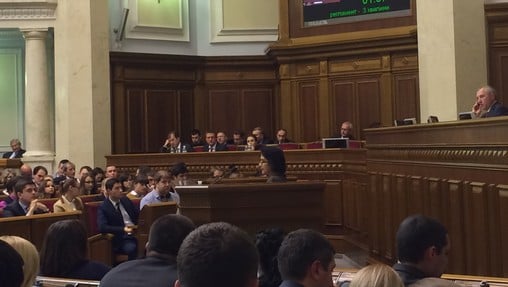 Empowering of youth, ensuring their access to economic opportunities and addressing the social challenges they face in Ukraine became the key topics for discussion during the Parliamentary Hearings held in the Verkhavna Rada of Ukraine.
The hearings entitled "Youth Participation in social life of Ukraine: economic performance" gathered representatives of Ukrainian Cabinet of Ministers, Members of the Parliament and the Parliamentary Committee on Family, Youth Policy, Sports and Tourism as well as youth organizations' activists and NGOs representatives.
The speeches and presentations touched upon a number of important issues, related to the youth policy of Ukrainian Government and measures planned for the upcoming years to address the existing challenges such as youth unemployment with special focus on unemployment among young women, demographic shrinking of young people in the country, the issues in youth health services sphere etc.
UNFPA Representative for Ukraine Ms.Nuzhat Ehsan in her presentation at the Hearings commended the efforts of the Government of Ukraine to put youth development as a strategic priority for the country, and the approval of the document "Development Strategy of the Public Youth Policy till 2020" by the President of Ukraine that defines principles and goals of future development and empowerment of young people though socioeconomic, political and legislative leverages.
On behalf of the UN system in Ukraine, UNFPA Representative stressed on the importance of the youth policy to be developed on the evidence-based approach to best respond to the needs of youth, in terms of health, housing and employment. "The Youth Policy must be multi sectoral and multi disciplinary. It must not be declarative but actionable with concrete, measurable and achievable results, annual targets and most importantly, adequate financial allocation. Efficient mechanisms of horizontal collaboration are of critical importance and the UN system can assist in this undertaking too", said she.
The Hearings' participants adopted the resolution that will contribute to elaboration of the future efficient economic and social policies aimed both at providing adequate response measures and investments to tackle the currently existing problems, and at preventing important risks for the younger generations as well as for the national stability, security and economic development.