KRAMATORSK, Ukraine – Elena, age 31, found out that she was pregnant with her second child shortly before a ceasefire was declared in Eastern Ukraine last September. Elena's home town of Makiivka had been experiencing heavy, often deadly bombardments with mortars and grenades since the start of the conflict, which marks its second anniversary this April.
Fearing for their family's safety and Elena's ability to access maternity care, Elena and her husband decided they had no choice but to flee. And today, despite the ceasefire, bombardments of the region continue and stability has yet to return.
"We lost everything, all our financial means, our house and our connections," she says.
Like Elena, Dr. Vladimir Astakhov, a professor at Donetsk Medical University, fled his home, leaving just after non-government forces seized control of the region.
This winter, the two met at a maternity clinic in the government-controlled city of Kramatorsk, where Dr. Astakhov now works and where Elena went to deliver her baby.
"I have to stay in the hospital alone because my husband is searching for a job in other regions to ensure some kind of stability for our family," said Elena, nine-months pregnant and looking scared and strained as she sat on a clinic bed.
Because she experienced complications during the birth of her first child, the clinic decided to schedule a Caesarean section for this delivery – a procedure she likely wouldn't have had access to in Makiivka. And later that day, Elena gave birth to a healthy boy.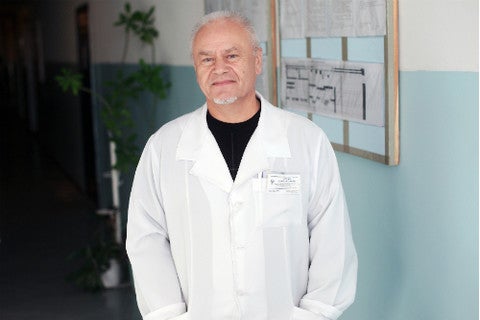 Dr. Vladimir Astakhov, a professor from Donetsk now working in Kramatorsk. © UNFPA Ukraine/Maks Levin
Lack of critical care in Ukraine's conflict zones
In the areas of Donetsk and Luhansk controlled by non-government forces, 100 health facilities have been destroyed or damaged by the fighting, up to 70 per cent of health workers are no longer at their posts and 50 per cent of the population lacks access to health care, according to ReliefWeb. In addition, due to sharp increases in the cost of medication and the closure of pharmacies and medical facilities, many people are being forced to go without essential medications.
This critical situation has caused many pregnant women, like Elena, to risk the treacherous journey – often by foot – to government-controlled cities like Kramatorsk where they can deliver their babies safely and, unlike in the occupied regions, receive official birth certificates for their children. However, the conflict is also causing severe shortages in staff, funding and medical supplies in these clinics, as the demand surges due to the influx of internally displaced patients.
And the strain has caused many clinics to determine that they cannot keep their doors open without charging for services or medications that would normally be free under the national health care system.
At the maternity clinic in Kramatorsk, the number of women delivering babies increased by over 25 per cent in 2015 due to the influx. "We only have the resources to provide free health care in urgent cases," says Dr. Astakhov. "Other women and their families are forced to find their own financial means." However, many families had to flee with little more than what they could carry – and have few resources.
This instability greatly increases the risk of maternal mortality, and each day, an average of 507 maternal deaths occur in emergency situations, resulting in 60 per cent of maternal deaths globally.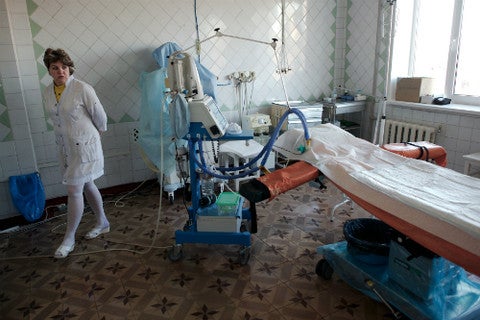 Many pregnant women travel across the contact line to deliver their children in maternity centres and hospitals in the government-controlled areas, creating additional pressure on the maternity clinics. © UNFPA Ukraine/Maks Levin
Transporting health supplies across the contact lines
To ease the strain, UNFPA has provided delivery kits in government-controlled parts of Eastern Ukraine that have been used for over 12,000 normal deliveries and 8,500 complicated cases, including Caesarean sections and miscarriages – and are allowing clinics like Dr. Astakhov's to help more women free of charge.
In addition, the Fund has delivered 38,000 kits for obstetric-gynaecologic check-ups, 2.5 million condoms to help stop rising transmissions of sexually transmitted infections and HIV in the region, 40,000 pregnancy tests and two infant incubators in the government-controlled area of the conflict zone.
In January, UNFPA successfully arranged its first delivery of supplies to non-government-controlled territory in Luhansk, and is also identifying opportunities to bring similar supplies to parts of Donetsk controlled by non-government forces.
"UNFPA works to provide sexual and reproductive health services to ensure safe birth even in the most difficult circumstances," said UNFPA Executive Director, Dr. Babatunde Osotimehin. "The health and rights of women and adolescents should not be treated like an afterthought in humanitarian responses."