The Break the Circle information campaign is part of the UNFPA Programme ""Integrated Response to end gender-based violence against vulnerable women and adolescent girls in Ukraine", which aims to support the process of strengthening national mechanisms for preventing and responding to gender-based violence.
The Break the Circle campaign began with the program in 2015 and is being implemented with the support of the UK Government in partnership with the Ministry of Social Policy of Ukraine. The name "Break the Circle" contains such meanings:
• Domestic violence is repetitive.
• Stereotypes, tolerance, and ignorance of domestic violence are passed down from generation to generation.
• The courage of one victim to get rid of violence inspires others to take this step.
Conditionally, the campaign can be divided into two waves:
1) 2015 - 2017. The target audience is women. Message "Break the Circle of Violence - Seek Help". The key video of this stage.
2. 2017 - so far. The target audience is women and men. The message "Break the Circle - Violence is Not the Norm". The focus has shifted from only victims to other participants in situations of violence - witnesses and abusers. All activities work to accomplish three tasks:
   disseminate information on available services and services for victims;
    increase the level of recognition of violence;
    tell how to act in a situation of witnessing or/and being a victim of violence and to call for active action in these cases.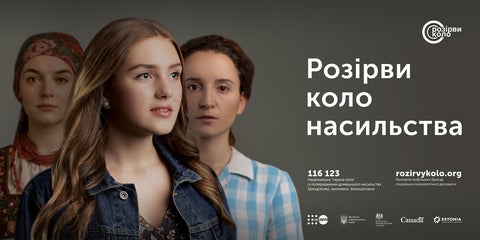 The key video of this stage. In 2019, we launched a promotional campaign aimed at breaking domestic violence myths with a series of video clips.
Thus, since 2015, Break the Circle's activities have evolved into a comprehensive national outreach campaign that reaches audiences today through both online and offline channels, and the initial task of disseminating useful contacts for victims and encouraging them to seek help has transformed into a new strategic goal -  to promote zero tolerance for gender-based violence in Ukraine.
As of 2018, a separate project called "(No) Trivia in Relations" has emerged as part of the campaign, aimed at raising awareness of psychological violence in youth relationships. In most cases, physical violence is preceded by the toxic behavior of a partner, the acceptance of which allows the appearance of other life-threatening forms of violence. According to UNFPA polls in 2019, only 56% of the population knows how to recognize psychological abuse.
(No) Trivia in Relations project started with a series of videos showing the typical phrases and actions of partners who are toxic. The commercials were shown as part of a digital campaign and  in the municipal cinemas of the city of Kyiv and the Cinema City network. Informal meetings with young people took place in Kyiv, Lviv and Odesa, where participants, together with psychologists, learned how to distinguish between healthy and unhealthy relationships and learned how to act if a partner is a psychological abuser.
The Break the Circle campaign supports an information resource - rozirvykolo.org and a Facebook page.