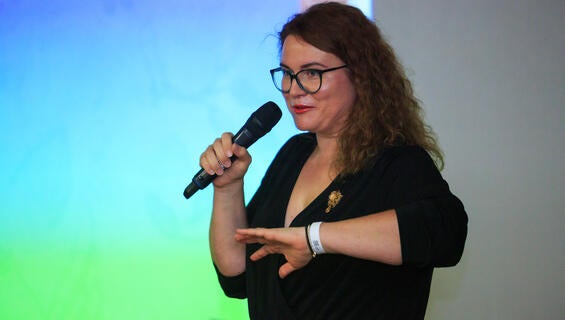 HIV epidemic response
We protect the rights of key populations (injecting drug users, sex workers, men who have sex with men) who are most vulnerable to HIV, by increasing levels of tolerance and reducing stigma and discrimination by healthcare workers. This is a guarantee of equal opportunities for representatives of key populations to access HIV diagnostics and treatment services. Moreover, we support key community leaders in advocacy for HIV prevention and provide preventive activities, including those in the eastern districts of the country adjacent to the contact line.
Reproductive health of women
We are expanding access to free and quality reproductive health services for girls and women in remote rural areas of Luhansk and Donetsk oblasts, providing hospitals and maternity clinics with essential equipment: sterile gynecological kits, specialized obstetric kits for childbirth, as well as creating the emergency rooms. An important component supporting the delivery of reproductive services is the organization of high-quality reproductive health and STIs counseling based on such emergency rooms and mobile teams. The equipment procured for hospitals and maternity clinics (fetal cardiac monitors, incubators) helps preserve the lives of newborns and premature babies.
Dr. Silina's School of Female Health
We are working to raise the awareness of girls and women about reproductive and sexual health and rights. The collaboration with Dr. Natalia Silina's School of Female Health is a great opportunity for girls and women and their partners to learn about the specifics of the choice of contraception, responsible pregnancy, minimizing the risks during childbirth and the birth of a healthy baby. A physician shares information on pregnancy planning, childbirth, and sexual education in an accessible and simple question-answer format in videos and articles.
#happinessunlimited campaign
#щастябезмеж campaign is aimed at people with disabilities and opportunities for them to implement their reproductive rights. We draw the attention of the public to the importance of ensuring reproductive rights and emphasize equal opportunities for people with disabilities. Cultural and sports celebrities share their family planning and maternity experience, inspire other people with disabilities to be confident in their abilities.